For the first interview in our #LoveAtFirstLace series, we spoke to Ellie-May Jay (aka @Elliemxy), an aspiring sneakerhead with a soft spot for Air Max Theas:
Hi Ellie-May! It's great to meet you. Tell us a little bit about yourself.
My name is Ellie-May Jay. I'm 17 years old and I'm studying my A-Levels in Worcestershire.
I have loads of hobbies, including my social media. I absolutely love blogging and browsing the internet looking at inspirational and aesthetic images. I'm addicted to buying clothes, shoes (especially trainers!) and make-up like any other girl I suppose!
I'm truly dedicated to my Instagram page (
@EllieMxy
) and I'm always working on my photography and editing when it comes to publishing images on my profile.
How long have you been into sneakers? What was your #LoveAtFirstLace? When did you buy them?
I've always been into sneakers since I was really young.
Every few weeks I would turn up to my PE lesson in a different pair of trainers that my mum would treat me to! My #LoveAtFirstLace was definitely my
Air Max Theas
, I'd just got my first job at the age of 15 when they caught my eye. I had to buy them!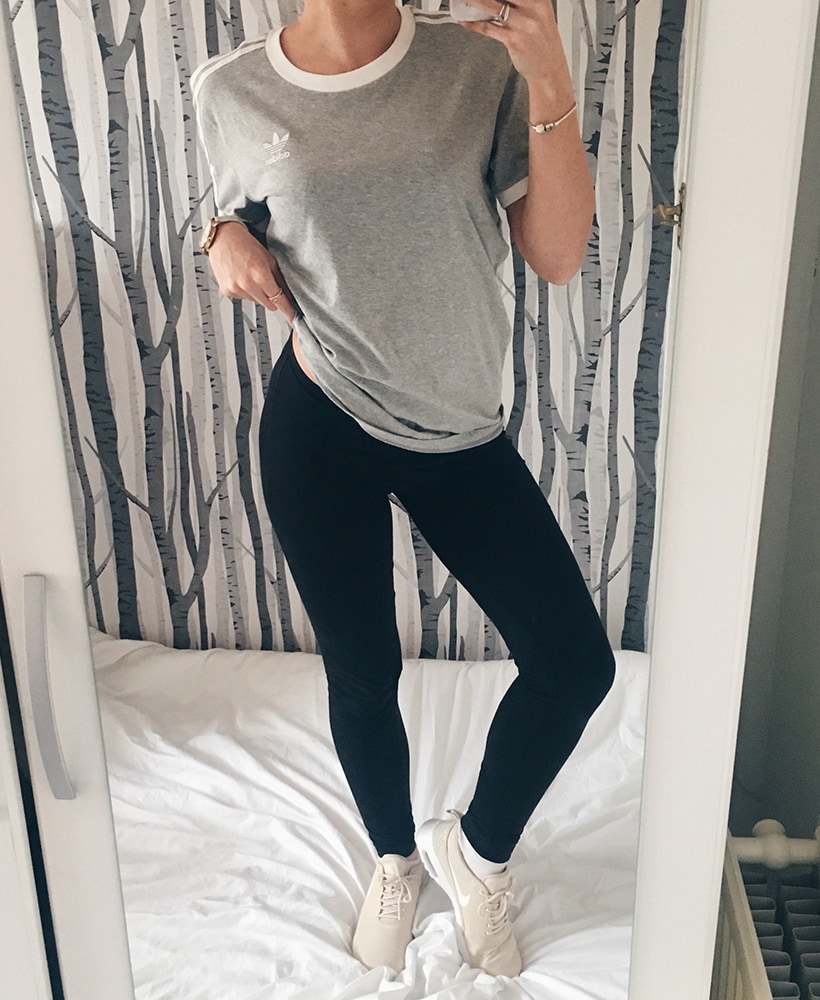 What was it that attracted you to them?
They were a unique turquoise, blue colour and because they were so different, I knew I had to buy them. I'm quite unique when it comes to my fashion sense, so these were definitely up my street.
What do you love about sneakers? How many pairs do you own?
I love sneakers because they make me feel so much happier when I treat myself to a pair. For lots of people, handbags or coats are what make them happy; but for me, it's definitely a new pair of trainers.
If I could go out to parties or social events in trainers, I would. I feel as though trainers completely transform your whole outfit, that's why I have so many pairs! I own 21 pairs of trainers (even after my recent wardrobe clear out!) and I keep buying more.
Are there any pairs you've never worn? Do you ever buy shoes just to collect them or do you wear every pair?
Out of all my trainers, there isn't a single pair that I haven't worn!
When I first buy a pair I tend to wear them a lot, and then I go through different stages where I adore one pair then switch to the next. If I had the money I would collect all the colours of every shoe I own.
All my friends and relatives know what to get me for my Birthday and Christmas presents because of how much I love a new pair of trainers.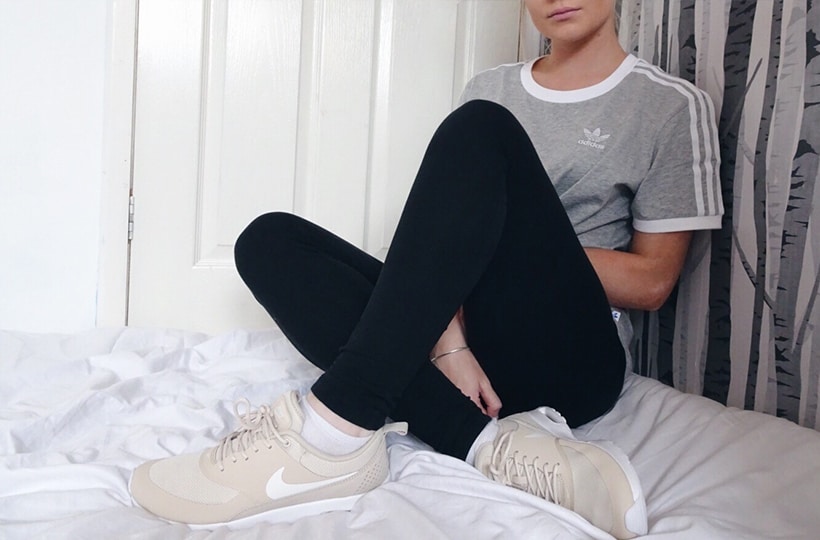 What are your top five favourite sneakers of all time? Are there any brands you prefer to wear over others?
My Top 5 favourite shoes of all time would have to be:
1. Nike Air Max Thea
2. adidas Originals NMD R1
3. Nike Huarache Ultra
4. adidas Originals Superstars
5. Timberland 6 inch Boots
I love all brands of trainers, but I've always been most loyal to Nike and adidas.
If you had to pick a pair to wear for the rest of your life, what would they be?
If I had to choose one pair I would most likely pick the adidas Originals NMD R1.
They're ridiculously comfy and I love the design and how they feel. The boost has such a spongy feel when you walk, it's almost like you're walking on clouds.
What's the craziest thing you've ever done for a pair of sneakers? Have you ever camped out for a release?
I've never camped out for a pair of sneakers. I've waited for an hour outside a store to open during their boxing day sales, I guess that kind of counts as I did come out with a new pair of Reebok trainers!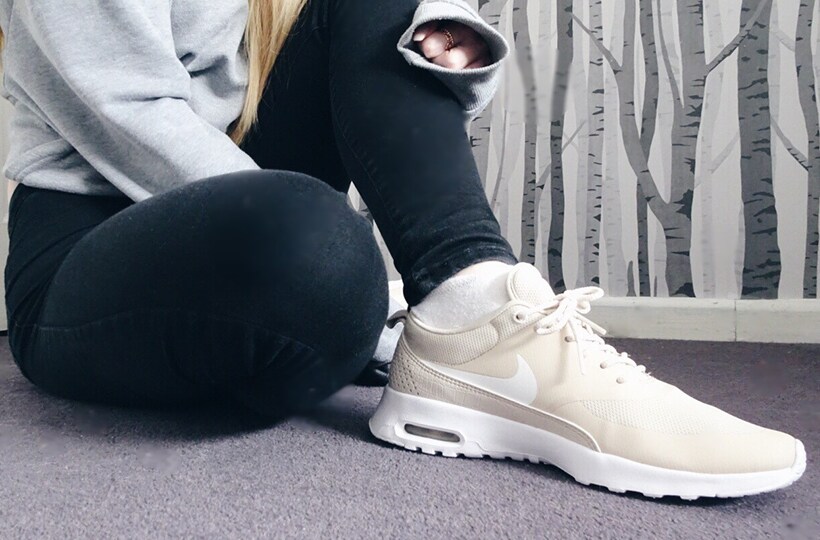 Tell us about the trainers you asked us to send to you. What do you like about them? What have you styled them with? And how would you describe your look?
I've asked for the
Nike Thea in Oatmeal
.
As you can probably tell, I absolutely love these trainers! I love their design and how sleek they look when you put them on.
I could easily style these with a pair of my blue ripped jeans and an oatmeal coloured hoodie. I love pastel colours so this outfit would be me all over!
I would describe my style as a pretty laid back, while still looking dressed up. I love the hoodies and ripped jeans look. Many people would describe my style as kind of tomboyish, but I'd much rather shop in stores like Footasylum than Forever 21! I really do love this type of clothing and I will continue to buy hoodies, sweatshirts, tracksuit bottoms and trainers until I'm old!
If you had to buy a pair of kicks for someone as a Valentine's present, what would you buy them and why?
If I had to buy a pair of sneakers for someone's Valentine's present, I'd probably get a pair of NMDs. They're definitely getting more and more popular and I don't think anybody would complain if they got them as a present!
They have a unique design that suits anyone, so they'd be perfect. I certainly wouldn't be upset if somebody turned up on my doorstep with NMDs, in fact I think I'd be closer to fainting!
Haha. Thanks, Ellie-May! It's been great talking to you. Fingers crossed somebody brings some NMDs for you on the 14th!