In our second #LoveAtFirstLace interview, we speak to Malin Pettersen (aka @malinpettersen), a Norweigian stylista with a an expanding collection of kicks:
Hey, Malin! Awesome to meet you. What's your story?
So nice to meet you too!
I'm currently living in Kristiansand (Norway) where I'm studying Marketing Management.
Taking pictures and dressing up is something I really love (as you might have seen on my Instagram!). I'm also a big fan of travelling, I just wish I had the time and money to do it more often.
I go running every day, and I know it's weird, but I'm absolutely obsessed with organising my closet. I spend way too much time on it.
How long have you been into sneakers? What was your #LoveAtFirstLace? When did you buy them?
I've always worn sneakers since I was very little, and my Mom bought everything I wore. The first sneakers I can remember wearing are
some pink Nikes
.
I think I was 13 years old when I bought my first pair of sneakers (also pink Nikes! Haha). I really do love pink. I remember being so happy with them! I can never throw anything away, so I think I still have them somewhere.
From then on I was hooked. It's been a few years since then and my collection has really grown!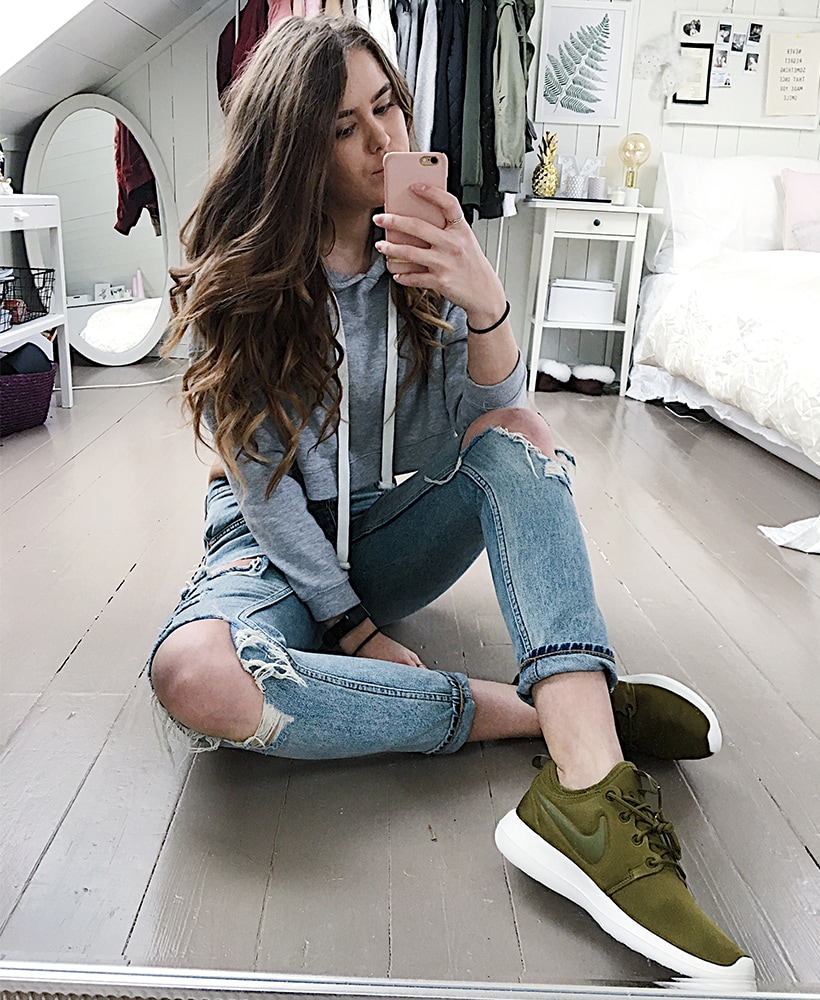 What was it that attracted you to them?
Really, I think it was the colour that made me want to buy them. When I was younger the colour meant more to me than anything else.
I only bought pink shoes for a while, but I quickly had too many, so I started buying other colours. Haha.
What do you love about sneakers? How many pairs do you own?
I love everything about sneakers!
First of all, they're really comfy (especially compared to heels). Also you can wear them with everything. Whether you're wearing a dress or jeans, sneakers give an egde that I really love. Every sneaker is different. I think a pair of sneakers can really complete a look.
I don't know how many pairs I have in total (because some are still at my Mom's house), but in my room I have 19 pairs at the moment. They're all lined up on a shoe shelf because I love to look at them. They're so pretty!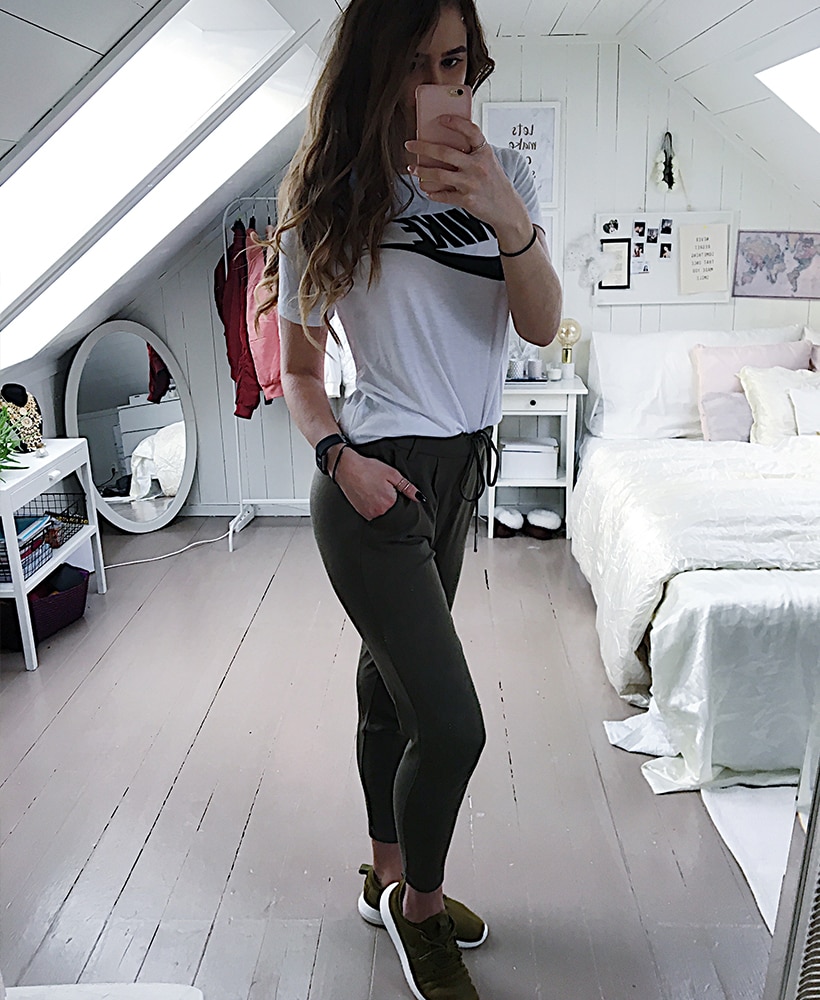 Are there any pairs you've never worn? Do you ever buy shoes just to collect them or do you wear every pair?
I would say that I'm a collector, yeah. I really do have a lot of shoes, but I try to wear every pair.
It'd be great if I could have two pairs of every sneaker I own, so that I can have a pair to wear and a pair for decoration in my room. I have some shoes that are quite similar, so I always choose to wear out whichever pair looks older first.
I have worn absolutely every pair I own though. I think that's pretty impressive!
What are your top five favourite sneakers of all time? Are there any brands you prefer to wear over others?
My top five sneakers (in no particular order!) are:
1. My black and white adidas Superstars
2. My holographic adidas Superstars
3. My Nike Air Max 90s
4. My white Nike Air Force 1s
5. My hot pink Nike Air Max Theas
I have loads of adidas shoes but I think I love Nike sneakers more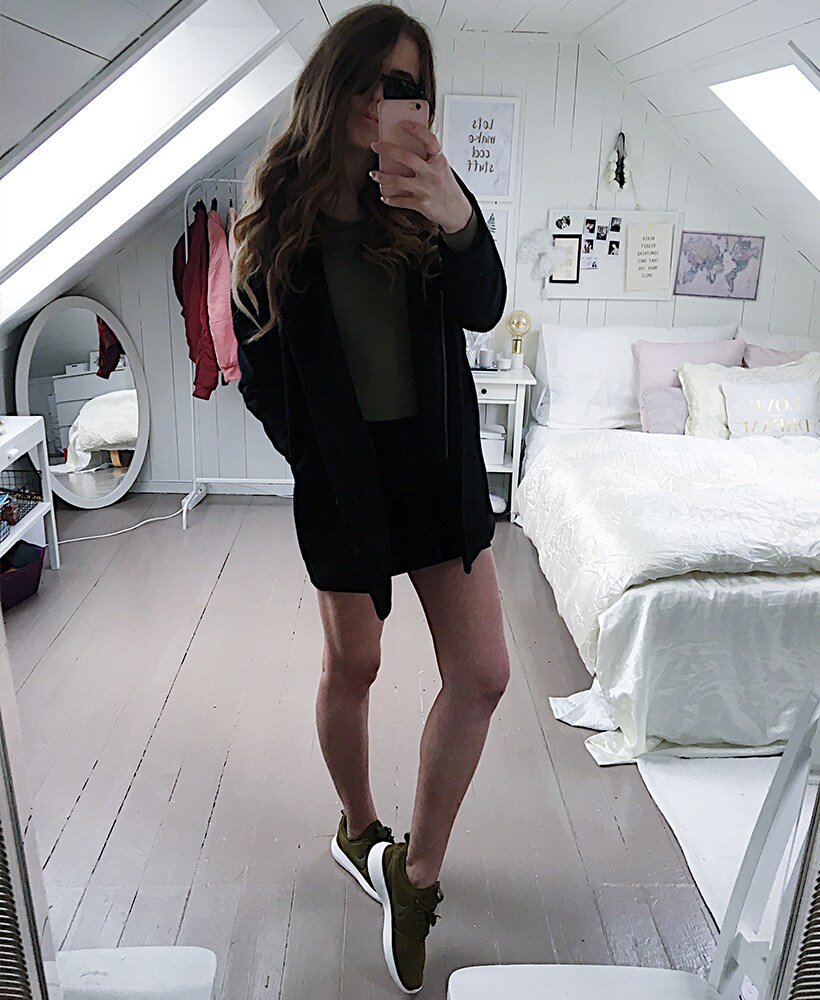 If you had to pick one pair to wear for the rest of your life, what would they be?
From the ones in my collection it would have to be my Nike Air Force.
The fact that they're white and simple means they go with everything. I've worn them a lot, so they aren't so white anymore, but they are so cool and really comfy. I wear them all of the time, even in winter when it's freezing outside.
Tell us about the sneakers you asked us to send you. What do you like about them? What have you styled them with? How would you describe your look?
I've chosen the
Nike Roshe Two in Olive and Sail
.
I've wanted a pair of green coloured sneakers for ages, but I've never managed to find the perfect pair until now!
I like everything about them. The Roshe design is so simple but so perfect, and coming from Nike, you know the comfort and quality will be great.
I've styled them with ripped jeans. Everything goes with ripped denim and a simple cropped hoodie. It's a casual everyday look.
I've also styled them with a comfy pair of matching green joggers and a Nike t-shirt. Another casual look, this is way more cosy.
The last look is just a skirt and a sweater, which is also green. This is something I would also wear in the summer, or at a social occasion.
Thanks for telling us about your #LoveAtFirstLace, Malin. We'll definitely be keeping an eye on your Instagram for more sneaker styling! Let's catch up again soon.