Celebrating the arrival of
FA UNLCKD
, our brand new loyalty scheme, we're taking to the streets to bring UNLCKD to you.
FA UNLCKD gives you the opportunity to earn points and exclusive prizes as you shop. Using the app to shop online and scan in-store allows you to earn vouchers with every purchase, and level up for money-can't-buy experiences like VIP tickets and backstage passes.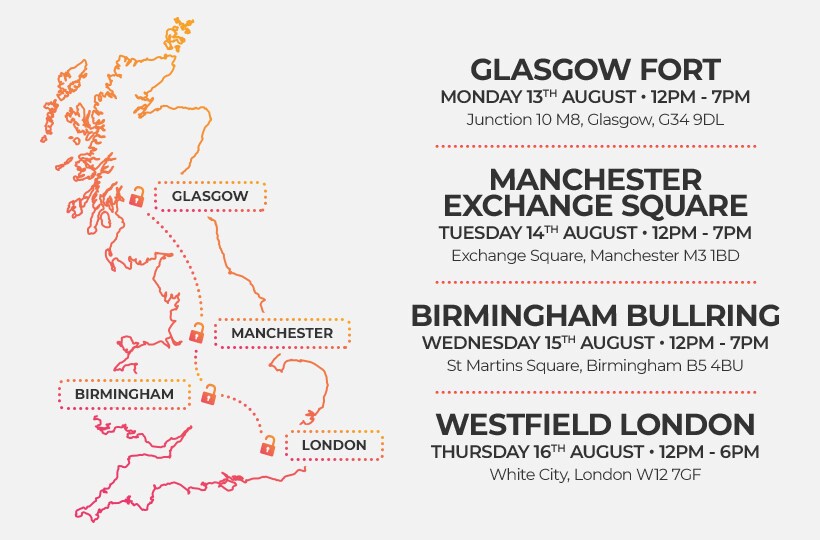 To promote the launch, our FA UNLCKD tour will arrive in four of the UK's key cities, starting on the 13th August and ending on the 16th. Travelling from city to city, our tour bus has been kitted out with FA branding, spreading the word and getting you involved in some serious events no matter what city you're in. Bringing live DJ sets, MC competitions and more we're on the lookout for up-and-coming urban talent across the UK.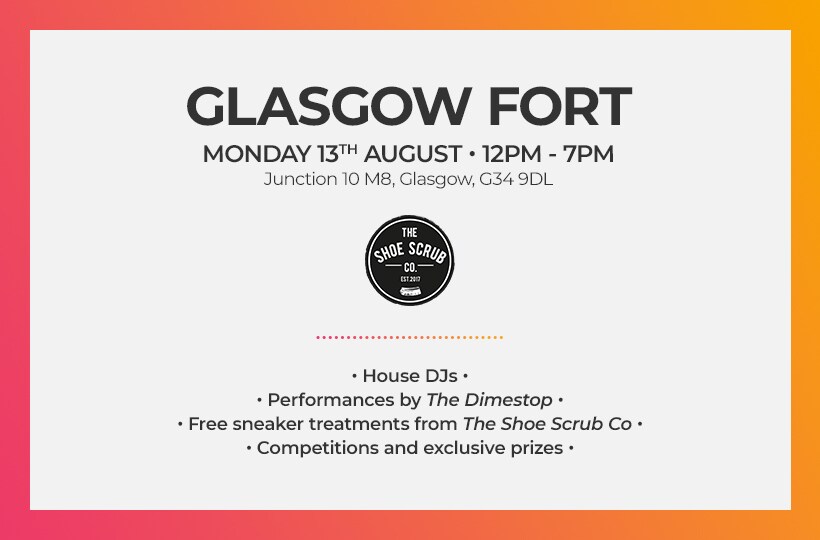 Starting in Glasgow on Monday 13th August, the Footasylum tour kicks off with SubClub at Glasgow Fort. Here you'll find the best of the city's music makers playing non-stop House DJ sets throughout the day. SubClub is regularly voted amongst the best clubs in the world and revelled by regulars, visitors, DJs and musicians all over the world, maintaining a reputation for a no limit attitude when it comes to appreciating some serious sounds.
We have performances from Dimestop, a dance community based in Glasgow with an aim to facilitate the growth of Popping dance, be sure to catch them outside the bus throughout the day. There will also be a range of local food vendors including Tantrum Doughnuts and Ramen Dayo. Be prepared and make sure to bring your latest sneaks as The Shoe Scrub Co will be there to freshen up your footwear with free treatments on the bus to keep your sneakers in pristine condition.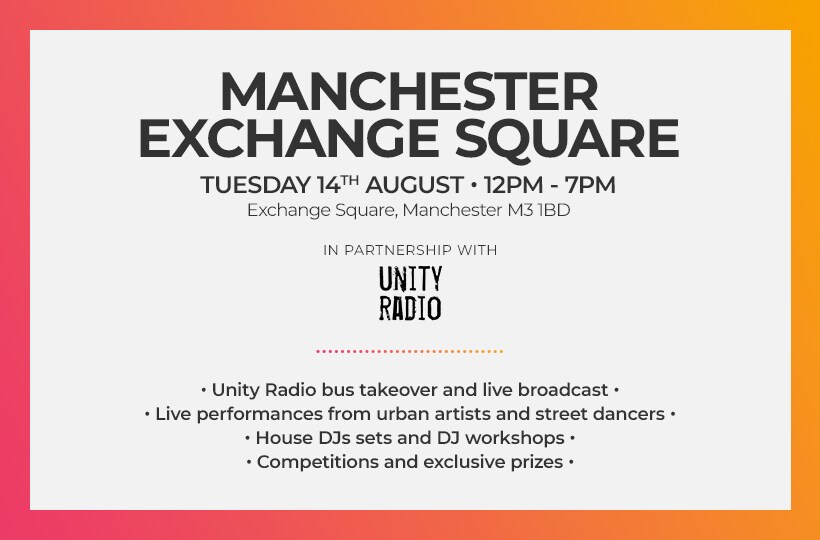 Moving onto Manchester Exchange Square on Tuesday 14
th
August, there will be performances, interviews and competitions all day long broadcasted live on local station Unity Radio from 1-7pm. Providing the sounds will be a range of DJ's playing house music all day with DJ workshops inside the bus to set you up with some sick skills. There will be a dance crew outside performing all day whilst there will be workshops throughout the day to keep you involved and on trend.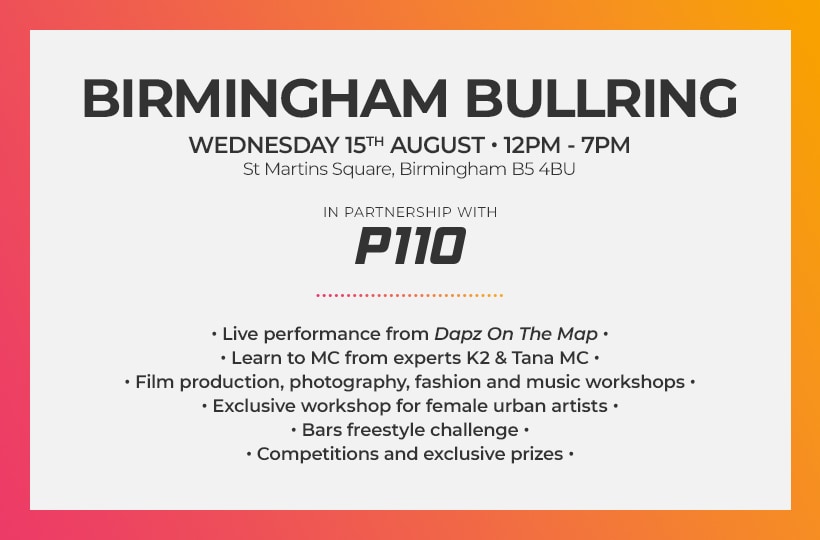 Wednesday 15
th
August sees the bus tour head to Birmingham Bullring with P110 - a broadcasting platform working with new and current urban talent - so don't miss your opportunity to be discovered. P110 offer a range of platforms including freestyles, live performances and documentaries, and have worked alongside influential artists from Skepta to Bugzy Malone to Section Boyz.
We will be hosting a variety of workshops so you can learn about; MCing by P110s own K2 & Tana, film and video production, photography, fashion and music. There will also be an exclusive workshop for up and coming female artists to showcase their vibe and learn from the best. Once you've fine-tuned your skills at the workshops, don't miss the freestyling challenge and the live performances from Birmingham's own grime artists.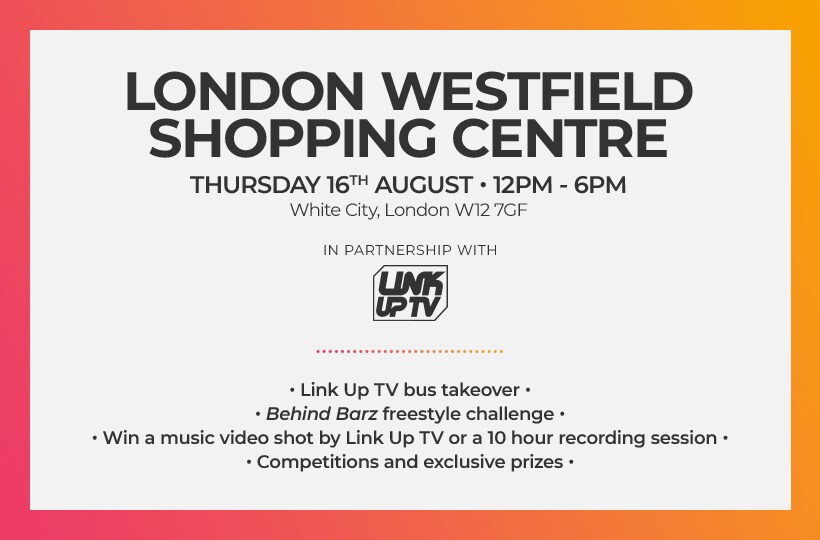 The last stop for the FA UNLCKD bus tour is at Westfield White City on Thursday 16
th
August. Collaborating with media outlet Link Up TV, the tour will see a 'Behind Barz' takeover - a freestyle rapping competition. With just a mic and backing beats, emerging rap and grime artists have just one minute to drop their best and hardest bars.
Link Up TV will decide the 10 best artists and put them online for the public to vote via the FA Instagram. Artists could be in with the chance to win a free music video shot by Link Up TV or a 10-hour studio recording session. There will also be a variety of other prizes including Footasylum vouchers, discount codes and the latest trainer drops and garms.
Be sure to check out the tour at a city near you and take part in the hottest competitions and challenges – don't miss out.
Download the Footasylum App
now to start earning your exclusive prizes and points.