Pioneers of innovation,
PUMA Women's
is a brand that needs next to no introduction. Cemented as one of the top sportswear brands in the world and a streetwear icon, PUMA is the brand everyone needs in their wardrobe.
Whether they are creating high-performance sporting apparel or urban streetwear, they are a brand that just know what they are doing.
Started in 1948 by Rudolf Dassler, the brand originally catered to male athletes with one of their crowning moments being the introduction of football boots with screw-in studs in 1952.
However, 1998 saw a defining moment for PUMA Women's when Serena Williams won her first Grand Slam Tournament in the US open while signed to PUMA, before going on to win Wimbledon later that year while wearing her notorious PUMA catsuit.
After appointing Rihanna as their Women's Creative Director back in 2014, the women's segment of the brand has been going from strength to strength.
Determined to show streetwear lovers that the future is female and wanting to encourage women to be themselves, PUMA is a strong force in the world of women's streetwear.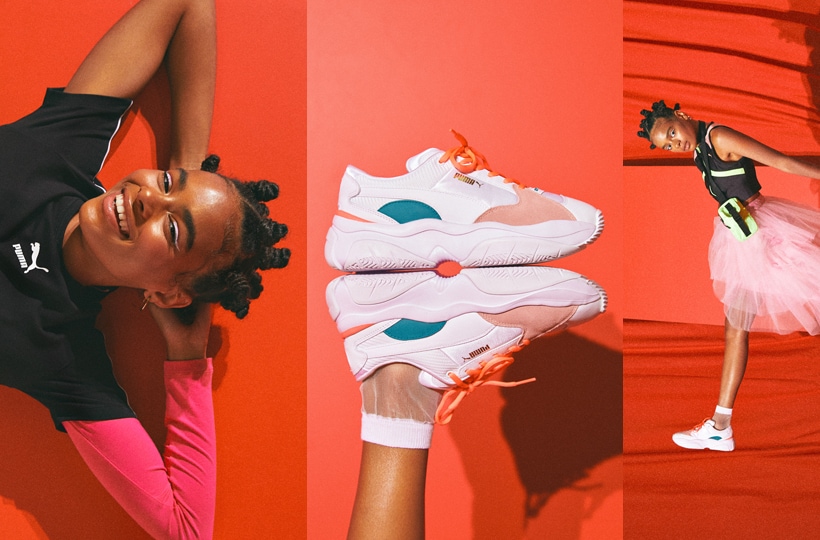 Carrying on their legacy of championing strong females, PUMA launched a long term partnership with Selena Gomez in 2017 as well as Cara Delevingne in 2019.
The latest PUMA Women's collection to drop at Footasylum is the epitome of strong and independent females.
Featuring powerful kicks and iconic clothing, if you're looking for a fresh look for autumn then PUMA is the brand for you. Step into autumn in style with the
PUMA Cali
, a sleek sneak inspired by 1980s California design. With a low cut silhouette and premium leather upper, this is the ultimate casual sneak.
Or to tap into the chunky dad trainer trend, the
PUMA Storm Y
sneak will take your look to the next level.
Although famous for creating sportswear, PUMA clothing is the perfect vibe for the streets, with the
Chase Cropped Zip Top
being the star of this season's collection at Footasylum. With a utility feel and neon accents, there is no other top you need this season. Pair with some simple
PUMA joggers
and let your outfit do the talking.
Discover the full collection of
PUMA Women's
and show the world the future is female.