Bad Descisions Make Great Stories.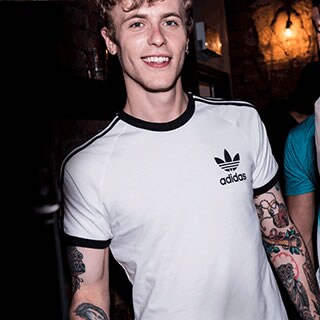 Shop Mens Tees
It's that time of year again and we're going in hard on this year's Student Lock-Ins, where you can save some serious money on Footasylum gear. As well as offering 10% discount to students on our top trainers and clothing with online purchases, you can grab a whole 20% off at one of our student lock-in events.
You can also WIN a year's supply of sneakers by snapping a shot of your latest Footasylum haul and uploading it to Instagram with the hashtag #WeAreFootasylum
What are you waiting for? Find your nearest student lock-in using our lock-in locator above and head over with a valid student ID to receive your discount.

Online Student Discount
Get 10% student discount online
To redeem your discount please verify your student status at myunidays.com
Then just head back to Footasylum.com and add your code at the checkout.

Unidays
In Store Student Discount
Get 10% student discount in-store, and 20% at the student lock-ins
To redeem your student discount in-store, just show your valid
student card at any Footasylum store.
Find a Store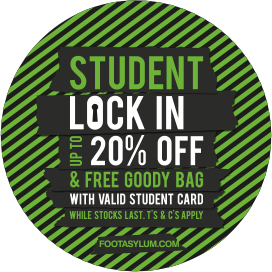 Get down to your nearest Lock-In and get involved with the mega 20% discount, competitions and freebies!
You will need:
A pint glass/ large bowl/saucepan (just something you're ok to drink out of)
A deck of playing cards
Drinks (whatever floats your boat)
Your new housemates/ coursemates/ future bed buddies
The Aim:
Place the cards face down in a circle around the pint glass and take it in turns to remove a card from the circle. To avoid any bust-ups, here are the definitive rules to follow. If you break the circle of cards at any point you know what you have to do… down that drink!
Ace: WATERFALL
The person that takes the card starts to drink, the others follow in a chain, you cant stop drinking until the person to your right stops drinking.
2: YOU
You pick someone to take two sips/shots.
3: ME
You have to take three sips/shots
4: FLOOR
the person that pulls the card can touch the floor whenever they wish, the last person to touch the floor takes a sip/shot
5: Guys
All the guys take a sip or shot
6: CHICKS
All the girls take a sip or shot
7: HEAVEN
the person who pulls the card can point to the ceiling whenever they want, the last person in the game to point takes a sip or shot.
8: DATE
Pick someone in the game to be your date, every time you drink, they must drink
9: RHYME
Repeat a word or struggle to answer loses and has to take a sip/shot
10: CATEGORIES
Choose a category, go around the circle naming items from the category, first one to repeat or struggle loses and takes a sip/shot
Jack: MAKE A RULE
The person that draws the card can make up any rule, it can be anything from not using first names, to having to stand on one leg. Whoever breaks the rules, drinks a sip or shot
Queen: QUESTION MASTER
Whoever picks the Queen is the Question Master, this person can ask anyone in the circle a question, if they reply they have to drink, if they refuse – they're safe
King: POUR
If you draw a King cup you must pour some of your drink in to the cup in the centre. Whoever draws the fourth and final King has to down the entire cup. This, of course, is the dirty pint.
Disclaimer:
You know we've got to say it, drink responsibly folks and look out for your new BFFs – sharing is caring, and you want to make it to the after party after all.