Gandy's Flip Flop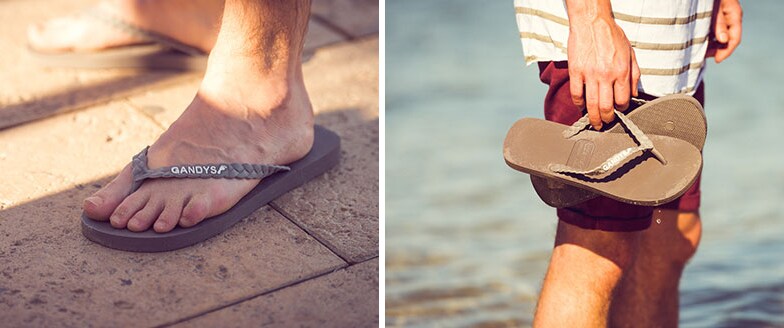 Date Posted: 15/07/2013

It's a phrase we have all heard at one time or another, but which fantastic new brand has it inspired? "Gandys" has been created by young brothers Rob and Paul who were tragically orphaned by the 2004 Boxing Day Tsunami. Disaster struck for the siblings but this hasn't stopped them from masterminding a superb new brand and making money for an incredible cause in the process.
We've been onto Gandys since the start here at Footasylum and we really can't recommend them enough – not only is this an amazing story but their products are wicked as well!
The brothers behind the Gandys brand had the following to say of what has become a pioneering footwear project;
"We wanted to make something positive from our tragedy and to help other orphans around the world. So for every pair of our flip flops bought by you, Gandys will be donating 10% of the profits to help other children less fortunate in developing countries. We call our mission 'Orphans for Orphans'. Thank you for helping us in this mission."
Gandys flip flops have a distinctive rope strap, super comfy sole and a clean and crisp logo, making them the choice of many this summer. As we look to be enjoying a real summer for the first time in years, there has never been a better time to invest in a top quality pair of flip flops and of course – help people less fortunate in the process. What a winner!
Gandys are available in sizes from 7 all the way up to 12 and a diverse range of colours so they can complement any Footasylum look, so why not grab yourself a pair today and enjoy some conscience boosting fashion?